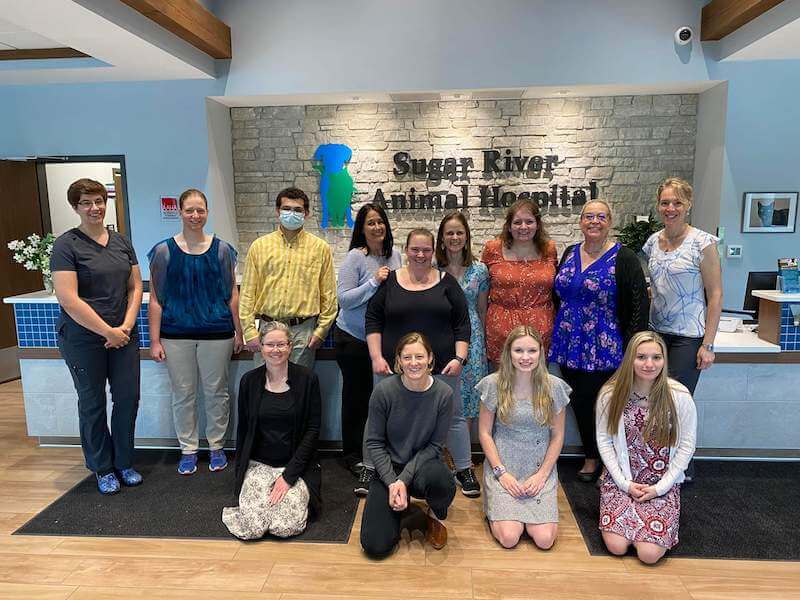 At Sugar River Animal Hospital our mission is to practice high-quality medicine while treating our clients and patients like family.
Our core values are:
To treat our clients, patients, and team members with respect
To tailor the healthcare of our patients by collaborating with our clients
To provide excellent customer service
To help our team members grow and develop in our careers
To stay current with the medicine we practice
When you work at Sugar River Animal Hospital you get to work with some of the best and brightest in the field. We encourage your professional growth by providing access to continuing education as well as learning opportunities within the practice. We also meet annually outside of performance evaluations to listen to how you want to grow and develop.
Our amazing team of doctors and staff collaborate to achieve our mission and genuinely care about our patients, clients, and our teammates. Our positive culture shows in the way our team at Sugar River Animal Hospital works together to support each other and our clients. Our team camaraderie is what makes our hospital a special place to work and grow.
When you join our team of veterinarians, it means that you will be collaborating with some of the most dedicated and compassionate veterinarians in the industry. Our doctors and staff provide the highest quality of medical care possible by growing our knowledge base through continuing education, by having a boarded surgeon and boarded internist come to the practice when needed, and by collaborating with our clients to create the best healthcare plan for their pets. We are looking for candidates who truly understand that pets are part of the family and will treat every pet like their own.
If you are passionate about pets and people we want to hear from you! If you would like to be considered for availability, please submit an application today!
---
Current Employment Opportunities