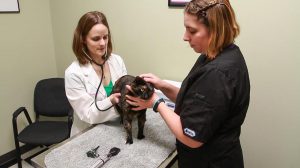 Preventive care and wellness checks are so important for your pet. These annual visits are for more than vaccinations, our veterinarians also use this time to perform overall physical checks on each one of our patients. Having these checks on record helps our team to identify changes in your pet's health as they occur, enabling us to provide treatment quickly and efficiently. These physical checks are performed "nose to tail" and our doctors always walk you through the entire check-up, helping you to understand what we're looking for. Our checks will be different for each life stage. Check the sections below for more information.
Puppies and Kittens Check Ups
When your pet is a puppy or kitten, they need a strong foundation for a lifetime of health. We recommend puppies and kittens start seeing a veterinarian around 8 weeks of age to begin receiving a series of vaccinations, a complete physical check and are spayed or neutered. These get your pet headed in the right direction!
Adult Pets Exams
When your pet reaches their adult years, they may not need as many vaccinations as they received initially. We base our vaccination protocol on the individual needs and lifestyles of each of our patients. We use this visit to perform a complete physical check of your pet, examining everything from your pet's eyes, ears, and oral cavity, to their skin, paws, and internal organs. We will also perform a fecal check to identify and treat any internal parasites that your pet may have acquired. We encourage you to bring your pet care questions and concerns at the time of your visit so that we can help.
Senior Pets Exams
As our pets reach their golden years, things begin to change. Older pets are likely to develop problems with hearing, seeing, and even mobility. During your senior pet's examination, we begin looking for different things than we had been looking for during their adult years, including checking for signs of pain, problems with organ function, and the onset of diseases or illnesses. We recommend geriatric blood work be performed on all senior pets to help us keep a close watch on their body functions. We believe this is a stage where it is very important to discuss the quality of life concerns, making sure that your pet is living the most comfortable life possible in their old age.