Welcome To Our Practice!
We look forward to serving you and your pet with the best possible veterinary care. We utilize the most current standards of care, and we specialize in providing comprehensive wellness care to keep your pet healthy now and in the future.
Sugar River Animal Hospital became the first American Animal Hospital Association (AAHA) accredited practice in the Upper Valley in 2015. In order to become an AAHA accredited practice, Sugar River Animal Hospital has to meet over 900 standards of care and have to be re-accredited every three years. Only about 15% of veterinary practices in North America are accredited.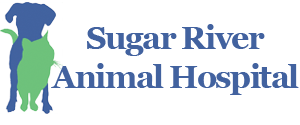 Learn More
We are a Cat Friendly Practice!
Sugar River Animal Hospital is also the only Feline Friendly Accredited practice in the Upper Valley. Again, certain standards were met based on the American Association of Feline Practitioners guidelines to help make visits less stressful for cats when they come to Sugar River Animal Hospital.
Some of the things that Sugar River Animal Hospital does to make feline visits less stressful are having a cat only exam room, cat only waiting area, cat only hospital ward, and special handling techniques.
Read more
Scheduling an Appointment
We try to make scheduling a veterinary clinic appointment as convenient as possible for you. There are several ways to easily schedule an appointment for your pet to be seen at our veterinary clinic: